No text can do justice to the Meenakshi temple. The gigantic temple complex, the statues exploring the entire range of human emotions, everything here is larger than life. The Meenakshi temple complex is a city temple - one of the largest and certainly one of the most ancient. According to legend Madurai is the actual site where the wedding between Shiva and Meenakshi took place. The soaring and exquisitely carved towers enclose the temple dedicated to Meenakashi. The south gateway contains the twin temples of Shiva and Meenakshi and is about nine storeys high.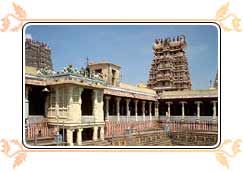 The Sri Meenakshi Sundareswara temple and Madurai city originated together. According to tradition, Indra once committed sin when he killed a demon, who was then performing penance. He could find no relief from remorse in his own kingdom. He came down to earth. While passing through a forest of Kadamba trees in Pandya land, he felt relieved of his burden. His servitors told him that there was a Shivalinga under a Kadamba tree and beside a lake. Certain that it was the Linga that had helped him; he worshipped it and built a small temple around it. It is believed that it is this Linga, which is till under worship in the Madurai temple. The shrine is called the "Indra Vimana".
Once Dhananjaya, a merchant of Manavur, where the Pandyas had arrived after the second deluge in Kumari Kandam, having been overtaken by nightfall in Kadamba forest, spent the night in the Indra Vimana. When next morning he woke up, he was surprised to see signs of worship. Thinking that it must be the work of the Devas, he told the Pandya, Kulasekhara, in Manavur, of this. Meanwhile Lord Shiva had instructed Pandya in a dream to build a temple and a city at the spot Dhananjaya would indicate. Kulasekhara did so. Thus originated the temple and city.